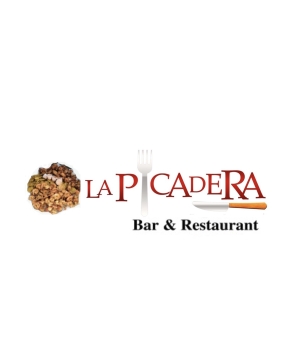 La Picadera Bar & Restaurant
Comida criolla, picadera y mucho mas
Lunes-Viernes 9:00 am-9:00 pm) asabados y domingo pronta apertura de 8am a 5:00 pm
Mofongo relleno de vejetales
$14.95
vejetales mixtos
Con Papas Fritas. French fried
Canoa de Amarillo (Stuffed Sweet plantain)
$9.99
Sweet plantain stuffed with vegetables. Platano maduro relleno de vegetales.
Stuffed Plantain Surf & Turf (Relleno Mar y Tierra)
$29.95
Stuffed Plantain Mixed Sea Food
$29.95
Stuffed Plantain Chicken
$18.95
Stuffed Plantain Skirt steak (Churrasco)
$24.95
Stuffed Plantain Fried Pork Meat(Carne Frita)
$18.95
Stuffed Plantain Mahi Mahi (Dorado)
$20.95
Stuffed Plantain Grouper (Mero)
$18.95
Stuffed Plantain Shrimp (Camarones)
$18.95
Stuffed Plantain Salmon
$19.99
Stuffed Plantain Roasted Pork (Pernil)
$12.99
Alitas (6) (Chicken wings)
$9.95
Alistas de pollo. Chicken wings.
(3) Tacos de carne de cerdo. (Pulled Pork tacos)
$12.95
Tacos de carde de cerdo dulce (Sweated Pulled pork tacos)
Nuggets de pescado (Dorado)
$13.95
Sorullitos (Corn Stick)
$7.95
Queso Frito (Fried cheese)
$7.95
Mozarella (Cheese sticks)
$7.95
Lettuce , tomatoes , chicken (add strawberries, onion and cheese for 1.99)
Salsa Inglesa con queso manchego y jamon
Picadera El Morro Pequeña de 24Piezas
$19.99
Alitas, Camarones, Tostones, cordon bleu, mozarella, sorullitos, carne frita, queso frito
Mi Viejo San Juan 50 piezas
$45.95
Alitas, Camarones, Carne Frita, Chicharrón de pollo, Cordon Blue, Mozzarella. Tostones, Sorullos, Queso frito
Flan de Queso, Flan de Vainilla
$6.95
Bizcocho de Chocolate
$8.95
Coca Cola, Sprite, Diet Coke, Fanta china, Ice Tea
Naranja, Acerola, Parcha, Tamarindo
Opciones: Heineken, Corona, Stella, Coors Light, Michelob, Medalla, Modelo, Peroni
Tragos con Jugos Naturales
$8.00
Opciones: Whiskey, Rum, Vodka, Tequila
Original, Parcha, Coco, Fresa
Options, Regular, Passion Fruit or Strawberry with House Tequila $9.00 with Premium Tequila $13.00
Variedad de Tinto (Cabernet) y Blanco (Albarino) Tinto $11.00 Blanco $9.00
Cervezas Artezanales
$6.00
Ocean lab Mambo, Boqueron Crash Boat IPA or Blonde ALE
Mojito La Picadera 32oz
$18.00
Especialidad de la casa
Baileys, Amaretto, Kahlua
Tequila Silver, Grappefruit juice, Lime juice, agave syrup, Splash club soda, salt ring
Tequila silver, Grand Marnier, Anis liqueur, grapefruit juice, lemon juice, simple syrup
Gin, Lemon Juice, Simple Syrup, Splash of club soda
Gin, coconut cream, lemon juice
Vodka, Triple sec, lime juice, simple syrup, layer of berry, blend andred wine "Potion"
Tequila reposado, triple sec, pink grapefruit, lime, agave, splash of ginger beer
Cognac, sparking wine, lemon juice, simple syrup
Gin, sparking wine, lemon juice
Long Island iced tea
$12.00
Rum, vodka, tequila, Gin, triple sec, sour mix, splash of cola
Piña Colada Con Alcohol
$10.00